It's hard to believe we have been in Florida for one whole year!
Most of the time it feels like we have lived here for far longer and I mean that in a good way.
Making a huge move from Michigan to Florida, and homeschooling a large family in the midst of it, made for quite a year. We moved into a rental house and then moved again when we purchased our home. We have lived in our new home for almost 2 months and it feels great to have a sense of permanence and to truly be settled.
Last year wasn't our best year in terms of how much academic work we completed, however, Â it was a good year for exploring our new home state and just getting adjusted. It can be a challenge to constantly be the new people in a group, to have to use the GPS every time you get into the car, and just that feeling of being an outsider. Nothing can really cure those feelings other than time.
The kids grew in ways that can't be measured on a test.
We are thankful that we met a great group of friends and an active homeschooling group almost as soon as we moved here. Right away the kids had friends and had activities to get involved with. It made the transition so much easier.
When we began homeschooling in 2006, never did we imagine that our journey would involve a cross-country move. One of our goals with homeschooling is to help our children find their passions and to help them pursue those passions as best we can. We knew that a move to Florida would help open some doors in the future for our nature loving 11 year old. We also knew that being able to be outside a majority of the year would be a blessing for our family as well. Yes, it get's hot in the summer, but we made it through and no one melted!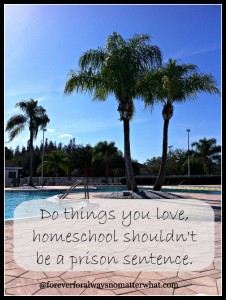 I share much more about ways to make a big (or not so big!) move more manageable as well as share tips on homeschooling a big family in The Big Book of Homeschool Ideas. Be sure to get a copy for yourself!
Now on to the giveaway! I wanted to share a few of our favorite Florida resources with you. You don't have to live in Florida, or even want to live here, to appreciate these books. Be sure to enter!
Here are the books I'm giving away:
The Young Naturalist's Guide to Florida
The Fabulous Florida Coloring Book
Deadly Waters: A Mystery in Everglades National Park
a Rafflecopter giveaway
  iHN is giving away 10 copies of the bundle! Don't worry, if you purchase your own copy and then win a copy, your entire amount will be refunded to you. a Rafflecopter giveaway
You can homeschool through a move and you can homeschool a large family. Yes, it's busy and at times a bit chaotic.